Tank Project Update 3: Building Containments for Surface Preparation
July 30, 2014 — Bessemer, AL — A crew from Vulcan Painters spent the week of July 21 building containments sized to capture dust, water, and overspray from seven historic tanks during blast cleaning and painting at Ft. Benning, GA.. The tanks are part of the collection to be housed in a new museum planned by the National Armor and Cavalry Heritage Foundation, and located near the National Infantry Museum and Patton Park. Painting is scheduled to begin August 4 on a project that involves contractors and suppliers from across the country.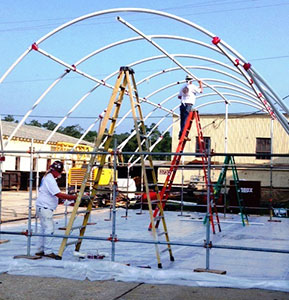 Director of Quality Systems Cory Allen, Industrial Superintendent John Jenkins and Reggie Clements, an equipment specialist, worked in intense heat and thunderstorms to haul in equipment and get the site ready for painting to begin.
Scaffolding was erected and two containment areas covered with polyethylene and roofing; the first for abrasive blasting and the second for pressure washing. The first tank is now in the wash area, the M114 Command and Reconnaissance Carrier, the smallest of the tanks to be painted. The second tank, the M48 Patton medium tank, is in the blast booth ready for Abhe & Svoboda of Jordan MN to start surface preparation.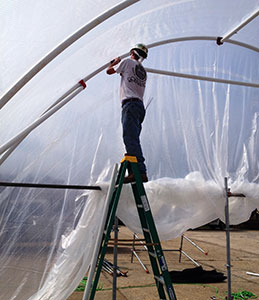 Working with the Vulcan Painters crew setting up containment was Coy Gravette from Anniston, AL who was assigned to work on this project by the International Union of Painters and Allied Trades (IUPAT). The IUPAT also lent an air compressor and two six-bag blast pots with bull hoses and hoods from its training facility in Atlanta, to help with the blasting operation. Donated paint from Sherwin Williams arrived and was sorted by color and stored in a locker. Over the weekend of July 26-27 Vulcan's equipment department loaded up a box truck with hose, filters and an additional compressor to go to the site Monday morning July 28th. Paint donated by U.S. Coatings arrived this week as well as garnet (blast media) from Corrosion Specialties' Andy Steinman in Atlanta.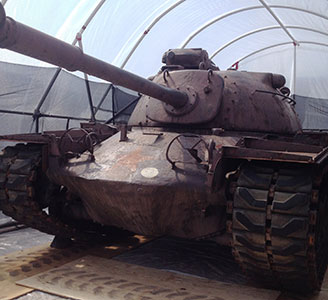 Eagle Industries and Vulcan Painters provided containment reinforced poly sheeting , mesh and scaffolding.
David Boyd, CEO of Vulcan Painters estimates that tank painting will take a crew of 3 men, 40 hours for tanks that only require pressure washing to clean, spot priming and finish coats (some are camouflage and others are not); and possibly longer for the same size crew to abrasive blast, prime and apply finish coats.
July 16 Chlor*Rid International tested the tanks and found that the highest concentration of soluble salts such as chlorides, sulfates and nitrates was less than 2 parts per million, a very small amount that requires no additional preparation other than pressure washing to remove.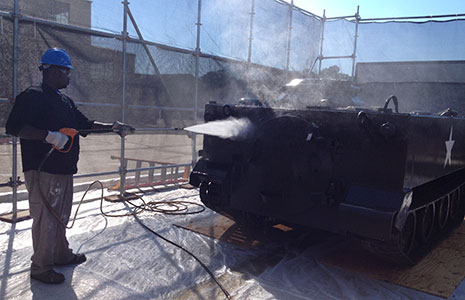 "We are ready to get started working like painters," said Allen. "The last week we've been working like carpenters."
Contractors volunteering their time, expertise and labor on the project include:
Main Industries of Hampton, VA;
Abhe & Svoboda, Inc. of Jordan, MN;
Coatings Unlimited Inc. in St. Louis, MO;
Thomas Industrial Coatings, Inc. of Pevely, MO;
Vulcan Painters of Birmingham, AL,
Suppliers donating paint, scaffolding, reinforced poly sheeting, soluble salt testing, blasting hoods, respirators, hoses, airline filters, air compressors, blast pots include:
Sherwin-Williams
U.S. Coatings
Chlor*Rid International, Inc.
RPB Safety LLC
Harsco
Corrosion Specialties Inc.
Axxiom Manufacturing
International Union of Painters and Allied Trades (IUPAT) District Council 77, which includes training centers in Alabama, Georgia, Tennessee, North Carolina and South Carolina.
Eagle Industries
Stewart Supply
Sunbelt Rentals
United Rentals