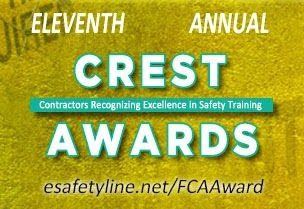 Vulcan Named 2020 top 3 Finalist in Award for Safest Finishing Companies by FCA
At Vulcan Painters, Inc., safety is our number one priority. That's why we're pleased to announce that we were recognized as one of the safest construction companies in North America! We finished as a finalist in the FCA CREST Top 3 Finalist in the 50,001-100,0000 hours category. 
The Finishing Contractors Association (FCA International) represents North American finishing contractors and has a mission to "educate, advocate, and legislate to enhance its members' opportunities for profitability" in an effort to advance the industry. The FCA CREST Awards are a way to objectively designate leading contractors based on specific safety measures and data. They look at factors that point to stellar safety performance, like low injuries and illness rates. 
We're proud to have our core value of safety recognized by the FCA Crest Awards. We're continually working to make sure that our safety performance meets our customers' safety requirements, as well as our own. We accomplish this goal through our safety program and strenuous training, both for management and employees. 
Our full-time Director of Safety, Training and Leadership Development manages our safety goals and adjusts as needed. We strive to have 100% of our employees trained to do their job as safely as possible. With a mixture of in-house training, skill and career development courses from leading trade organizations, regulatory standards, and union training, our employees are equipped to maintain a culture of safety. We also require refresher training every year, which encourages an environment where everyone is responsive and safe on their job site. A trained workforce is a safe workforce. 
Thank you to the Finish Contractors Association for recognizing our hard work and dedication to safety. We plan to honor this acknowledgment by continuing our commitment to providing a safe and healthy work environment to all of our employees. To see the full list of winners, as well as Vulcan Painters, visit the link here