How Do You Know You're Getting a Good Paint Job?
Feb. 7, 2019
By Jeff Theo, Vulcan Painters' vice president for business development. Jeff holds the Protective Coatings Specialist designation from SSPC-The Society for Protective Coatings, and he is an SSPC Level 3 Protective Coatings Inspector (PCI).  Jeff has worked in the coatings industry for 30 years and served on industry committees to set standards for coatings application.
At Vulcan Painters we use a variety of tools to make sure coatings are applied properly, in order to get optimal performance from them.  We have tools that deliver electronic reports instantly, and we use gauges that measure environmental conditions and film thickness.  You can monitor whether the coating is applied according to manufacturer's specifications by requiring daily reports from your coatings contractor.  Reports should include records of application temperature, relative humidity, surface temperature, dew point, wind, the specific window on paint use (pot life) special mixing instructions, and how much thinner is added to the paint. If you don't use daily reports, how do you know if the painters are painting within the specifications? "That's more than I care to know about," customers say, and that's fine, that's OUR world.  Let us take care of it for you.
Sometimes, we bid a project and the customer decides to accept a lower bid, only to come back later and hire us to fix a failed coating job.  When you get a price that is considerably lower, will you get equal quality?  Will the painter be experienced in applying the coating and apply the product correctly for maximum durability? Will they use daily reports to record ambient conditions, millage applied, etc.?  It's important to check.
The is an old saying, there is price, schedule and good quality.  Which two do you want?  Because you can never get all three.  If you get good quality fast, it's not cheap.  If you get good quality and cheap, it won't be fast. If you get cheap and fast, quality is not going to be the same.  Is there a schedule?  Sometimes schedule and quality drive the price.  We have to look at those things when bidding a job.
When thinking about the price of good quality, it's also important to think about what the price of poor quality is going to be.  What could a paint failure cost you, in time and rework?  It may be a price you don't want to pay.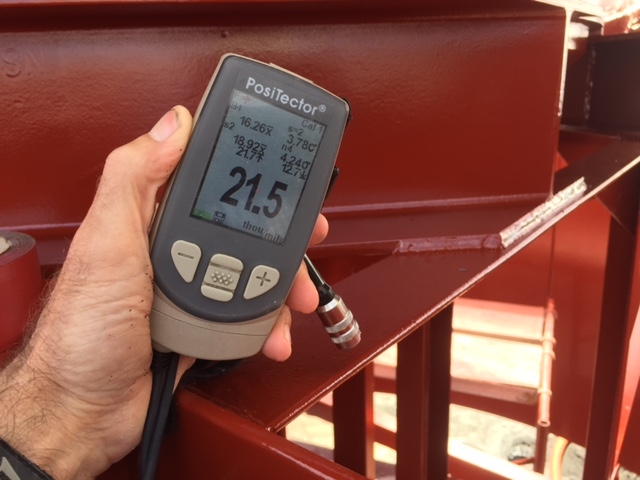 Electronic gauges are used to record dry film thickness and other measurements