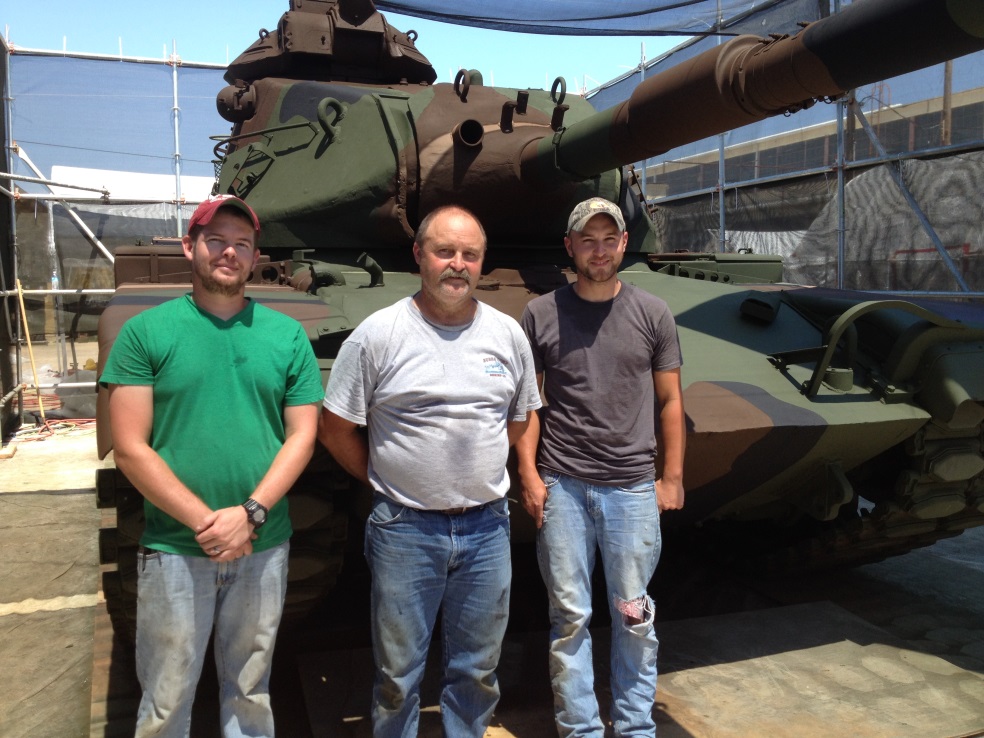 Tank Project Update 5: Tanks are Rolling!
August 26, 2014 — Ft. Benning GA — Work on the seven tanks to be placed as monuments around the site of the new Armor and Cavalry Museum at Ft. Benning is at full speed as industrial contractors have donated the labor of skilled painters to this job.
The tanks are being prepped and painted for the official kickoff of fundraising Nov. 11 by the National Armor and Cavalry Heritage Foundation (www.armorcavalrymuseum.org). They will be placed on gravel display pads in front of and beside the location of the new museum building, near Patton Park and the National Infantry Museum.
David Boyd, chief executive officer of Vulcan Painters, has organized the volunteer project, with Cory Allen, Vulcan's director of quality systems, working as the project manager on the site. But the project is a collaborative venture. Vulcan Painters supplied tools, equipment, fuel , and structures; Sherwin Williams providing not only paint, but supplies as well; U.S. Coatings donated paint, and five industrial painting contractors in addition to Vulcan sent crews from literally all over the country to paint the tanks - Main Industries, Abhe & Svoboda; Coatings Unlimited, Thomas Industrial and Champion Painting.
The Armor and Cavalry Museum Restoration Shop has lent it's Sullair 250 compressor and a forklift to the project, and given shipping containers and storage resources. Other companies and organizations have contributed scaffolding, mesh, blast pots and blast media, safety glasses, gloves, ear plugs, sand paper, scrapers, wire brushes respirators and other equipment and supplies.
Allen said that he is using the IUPAT donated Atlas Copco 750 compressor, "supplementing it with the museum's Sullair 250 when I don't have enough volume. The air is fed via a bull line to a dryer supplied by Schmidt (Axxiom) which then is fed to a dispensing manifold for our pots, fans, and air lines" (many also donated). "The spray equipment is conventional air spray using a two gallon pot." Blast media and product to remove lead based paint have been donated as well. (For a full list of contributors, see below.)
After initial problems with compressor fuel filters were solved, the tank project has moved methodically toward completion, and by August 20 four tanks were finished, two in process in the containments, and one tank remained to be painted the week of August 25.
The father/son team of Martin and Tray Thornton and Brent Higgins from Main Industries in Hampton, VA., finished the M60 Patton tank August 13, complete with camo design in green, black and brown, detailing the pattern on the tank down to the grating over the engine. Painters from Main Industries rigged unused pieces of covering intended for the blasting containment and anchored them over part of the water blasting containment, to give it partial shade from the blazing sun. When pushing the 56-ton M60 into its containment proved to be too much for the Landstar tank tugger used to move the vehicles on the yard, and Museum Director Len Dyer used the M88 A2 Hercules Armored Recovery Vehicle (ARV) to make the turn and push the M60 into the proper position. The M88 was designed to repair damaged tanks under fire and to extricate tanks that have become bogged down or entangled; Vulcan Painters' Reggie Clements noted that the M88 pulled the 56-ton M60 around "like it was a Volkswagon."
The 95-+ degree heat has posed a challenge but painters have been up for it, working long days in some cases to keep on schedule.
Shawn Eagan, project manager for Coatings Unlimited in St. Louis, brought his 16-year-old son Luke, who has studied military history and armor, along with his crew of Zachary Daniels and Hyrum Zweifel, both from Missouri. Allen, who does project and safety orientations with each new crew, included background information about the Bradley tank and its importance and relevance in the history of tanks and weapons systems primarily because Luke was there and was interested. The crew found this information so compelling that since then, Allen includes a brief history of each crew's tank their orientation. The Bradley Cavalry Fighting Vehicle was designed to transport infantry or scouts with armor protection while providing covering fire; the M3 painted by Coatings Unlimited mainly conducted scout missions and carried two scouts in addition to the regular crew of three. This type of vehicle has been in service from 1981 to the present.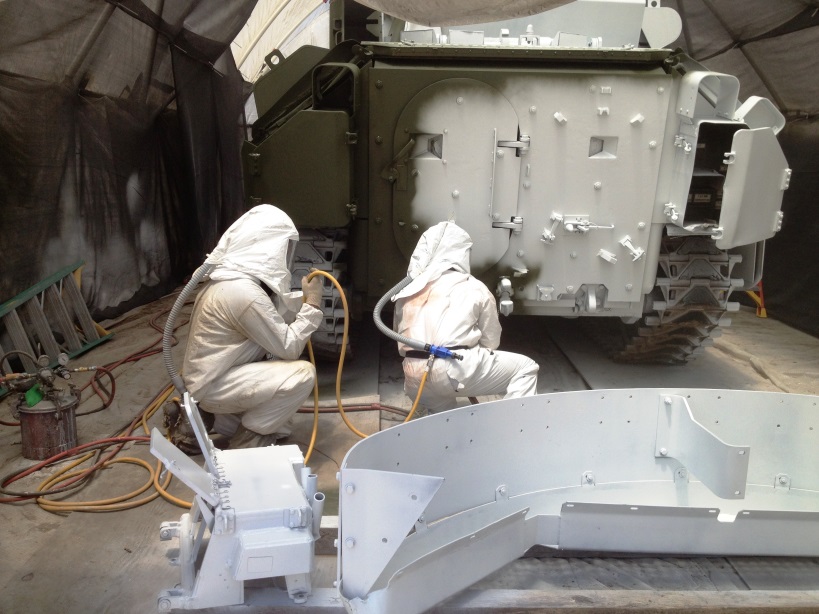 The crew from Coatings Unlimited arrived Monday August 11 and pressure washed their Bradley fighting vehicle, sanding and power tool cleaning it the next day. They then spot primed and sprayed on a full coat of primer Tuesday, and Wednesday morning they painted the turret and back fender. The finish coat went on Wednesday afternoon.
Eagan usually works in power plants for his company, which operates nation-wide. The painters he brought to the job with him are some of his company's best, he said, and had "earned the right to do a special project like this" -- the tank painting. "It's quite an honor, and we're excited to be part of it."
Crews have come in and started working immediately after safety and job orientations, with a brisk turnover to keep on schedule.
Thomas Industrial Coatings' crew of project manager Joshua Range, Richard Hale and Shawn Murray arrived from Pevely, MO at the restoration facility Monday August 18, to paint the M113 Armored Personnel Carrier. This vehicle was first used in the Vietnam War in 1962, and became the most widely used U.S. Army armored vehicle in that war. It has also been used by 50 countries worldwide, and has been adapted from its primary role as an assault vehicle to that of ambulance, mortar carrier, command vehicle and others. The M113 has aluminum armor, thick enough to protect passengers and crew, but also light enough to be transported by air in C-130s. M113's can carry 11 infantrymen with two crew members
When asked what he thought of the job painting the tank, project manager Josh Range from Thomas Industrial said, "I love it a lot. I'm a Navy vet and did a tour in Afghanistan, so this hits close to home for me. That's why I'm here."
The Thomas industrial crew prepped and power sanded their tank first, then pressure washed it and put on a coat of primer by Wednesday at noon. Shawn Murray, in full protective gear, was underneath the tank spraying the metal between the treads and other details before the final coat was applied. Two coats went on over the primer Wednesday afternoon and the crew got back on the road to Missouri by 5 p.m.
"What you have done here is phenomenal," said Rick Young, executive director of the Foundation. "You won't even realize the effect of this until later...I've really been impressed by the support and the attitude of the guys coming down here and working."
On August 26, Vulcan Painters' Reggie Clements and IUPAT's Coy Gravette, also assigned to the project by the union, worked on the M-26 Pershing tank, removing lead-based paint from it inside the closed containment before recoating it.
Champion Painting of Miami FL, a veteran-owned firm, arrived Monday August 25 to paint the last tank of the seven. The M551 Sheridan was a light tank designed to be dropped by parachute and swim across rivers. It saw service in Vietnam, Panama, and Kuwait. The crew of Robert Garrett of Orlando and Leo Aspiacu of Ocala FL, pressure washed the vehicle on Monday and power and hand tool cleaned in Tuesday, applying filler to imperfections on the steel and following with a coat of epoxy primer. The green base coat was scheduled for application on Wednesday followed by masking for the camo pattern.
"You don't get to do this every day," said Garrett. Champion is a union contractor whose work includes bridges, ships and power company projects.
The tanks project is scheduled to be completed by September 1. The seven tanks painted by contractors will join an Abrams tank and a Sherman tank on the site of the new museum building. The kickoff of fundraising is scheduled to be held at the site on Nov.11.
Contractors donating time, labor and expertise for this job are:
Main Industries of Hampton, VA
Abhe & Svoboda, Inc. of Jordan, MN
Coatings Unlimited Inc. in St. Louis, MO
Thomas Industrial Coatings, Inc. of Pevely, MO
Vulcan Painters of Bessemer, AL
Champion Painting of Miami, FL
Suppliers donating paint, scaffolding, reinforced poly sheeting, soluble salt testing, blasting hoods, respirators, hoses, airline filters, air compressors, blast pots include:
Sherwin-Williams
U.S. Coatings
Carboline-MEK and 55-gallon drums
Chlor*Rid International, Inc.
RPB Safety LLC
Mohawk Industries
Corrosion Specialties Inc.
Axxiom Manufacturing
International Union of Painters and Allied Trades (IUPAT) District Council 77, which includes training centers in Alabama, Georgia, Tennessee, North Carolina and South Carolina.
Eagle Industries
Stewart Supply
Sunbelt Rentals
United Rentals