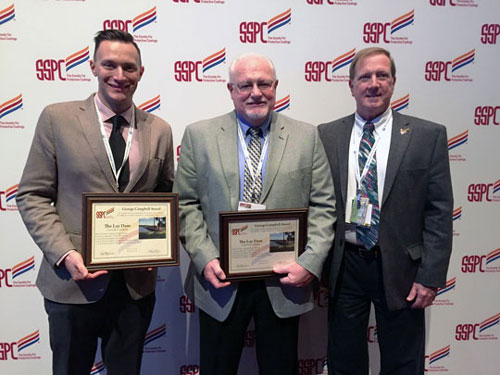 Vulcan Painters Award-Winning Project Profiled in JPCL
April 20, 2016 — Vulcan Painters Inc.'s work repainting Lay Dam for Alabama Power Company is profiled in the Journal of Protective Coatings and Linings (JPCL) April 2016 issue. This project won Vulcan Painters a George Campbell award at the SSPC-Society for Protective Coatings annual meeting and awards ceremony at the SSPC convention January 18 in San Antonio, Texas.
Roger Yeargan, Hydro Manager of the Lower Coosa Hydro Plants for Alabama Power, attended the awards ceremony with Vulcan Painters managers to receive the owner's award. The George Campbell award is given to honor outstanding achievement in the completion of a difficult or complex industrial or commercial coatings project.
The project included refurbishing and upgrading two of Lay Dam's turbines and surface preparation and repainting of concrete floors, walls, interior structures, machinery, railings, stairwells and stairways. Painters also pressure washed and striped the helicopter pad, ramps and parking areas adjacent to the powerhouse. Using a man lift, painters cleaned the cornice and sections of the brick powerhouse.
The project work involved creating an ICRI CSP-3 profile on concrete floors and repairing them before painting with a 3-coat self-leveling epoxy system. Painters performed lead abatement on parts and machinery using SSPC QP-2 protocols and containment, and scaffolding was built to reach many areas of the powerhouse. An aerial lift was brought in for access to wash the cornice and the brick exterior of the powerhouse.
All the work was done with careful attention to retaining much of the building's historic significance while updating a working dam and powerhouse. Lay Dam's 100-year anniversary was celebrated by Alabama Power Co. shortly after the project was completed.
Vulcan Painters won a George Campbell award in 2011 for the repainting of the statue of Vulcan for Vulcan Park and Museum and in 2010 for painting six historic rockets at NASA's Marshall Space Flight Center in Huntsville.