Why Vulcan Painters Sponsors Vulcan AfterTunes
Vulcan Painters paints industrial structures (power plants, paper mills, pipe, fabricated metal parts) and for the last 12 years we have supported Vulcan AfterTunes, a three-concert series featuring up-and-coming musicians, many from the Southeast. The concerts are wonderful Sunday afternoon events in our usually dry fall, featuring sunny skies, the city view from the park, terrific music and an enthusiastic crowd of music lovers wih their kids, who slide down the hill on sheets of cardboard, play at Baby Palooza Magazine's games and sample food from food trucks.
We have painted the statue of Vulcan a number of times over the last 50 years, and we want the statue and park to continue to hold a special place in the landscape of this industrial city.  We love that Vulcan Park and Museum teachees the reason for the founding and growth of our industrial city, to local schoool children, families, and visitors from other cities and countries.  Her are some of the other things we love about Vulcan Park and Museum.
--The walkable Birmingham district map in the ground in front of the museum doors, shows the location of mineral depaosits here (limestone, iron ore and coal) that made iron and steel-making possible, as well as the cities--Birmingham and Bessemer, and the industries, Sloss Furnace, ACIPCO, McWane Pipe, U.S. Pipe, Hardie Tynes and others, that grew up around it.
--The industrial history of Birmingham is told in the museum exhibits, the good and the bad.
--The collage of iron and steel objects and industrial parts in the foyer of the museum shows many items we paint, such as pipe, crane rails, fire hydrants, gears, and grates.
--The combination of Birmingham's industrial history being told throught the visual arts is especially appealing.  The statue itself was designed by renowned Italian sculptor Giussepi Moretti; and the museum commissions historical plays and performances to tell the story of early Birmingham events.  An exhibition at the  museum from January17, 2020-January 3, 2021 celebrtes the 100th anniversary of the ratification of the 19th Amendment to the United States Constitiution and the Women's Suffrage Centennial, through the words, lives and pictures of local women activists. 
--The beauty of the park with its city view on a fall afternoon is hard to beat, as are Sunday afternoons with friends and music.
The cast iron statue of Vulcan has a special place in the lives of Birmingham residents who have grown up with it, driven by it to work, and seen it from the highway when leaving or returning to the city. We hope it continues to make memories for visitors.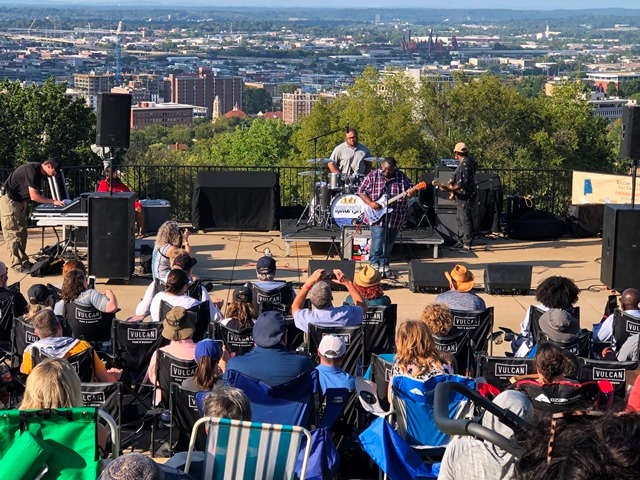 Concert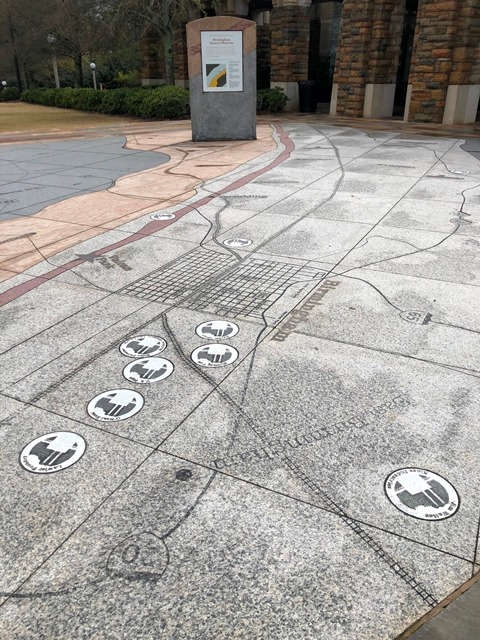 Walk of Fame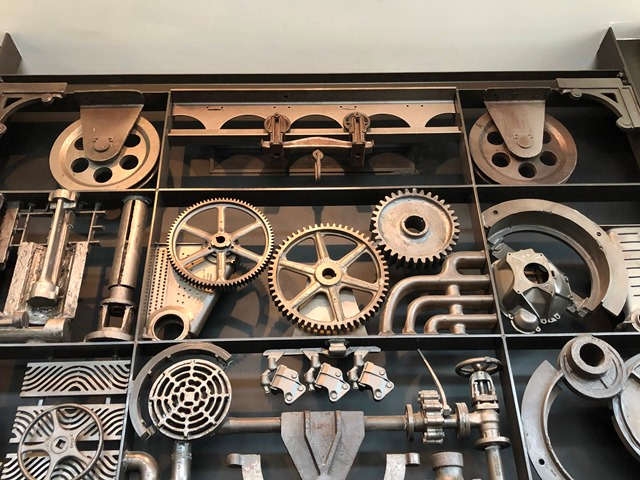 Gears