Working Safely at Vulcan Painters
April 30, 2019
Joe Singerhouse is Vulcan Painters Director of Leadership, Training and Safety.
At Vulcan Painters, safety is our most important core value. That starts with training, making sure painters are trained in the skills of our trade and in our safety procedures.  They must know our procedures and have instructions on how to follow those procedures.  All training certifications, craft and safety, are kept electronically filed and have three month alerts before they expire.
Our QMS and Electronic Safety System provide clear expectations for our foremen and our training ensures they understand it. We developed a leadership class for our foremen to teach communication and mentoring, so they know how to have productive conversations with workers to produce the best quality and most efficient production.  Foremen have to practice accountability, setting clear expectations and have conversations with people who are not upholding those expectations.
 After job training, says Joe Singerhouse, what has made a difference in our safety culture is putting the responsibility for safety on every employee, and not just the supervisors or managers.
Vulcan Painters safety program is electronic, with safety data entered on I-pads in the shops and field.  Foremen fill out the Job Safety Analysis for the daily work planned and it is passed around each day at the morning meeting to be read and signed by all the people on the job. They always understand the hazards they are working with that day. A copy of this is then sent to the home office where Joe, the project managers and even the president of Vulcan Painters review them regularly. Our customers are amazed that we include them in the loop and they are not having to "run down" foreman for daily safety information.
Painters also "Stretch and Flex", with employees doing a set of exercises to stretch muscles and get them warmed up for physical work.  Starting the work day that way reinforces the focus on safety.
After the 7 a.m. huddle in the shops and the Job Safety Analysis meetings in the field, "Managers shouldn't have to worry about safety," says Singerhouse.  "They should be free to do production plans, solve problems, take next steps, work on specifications and know that the employees are taking care of each other." The way Vulcan Painters does this is to encourage employees to right the wrongs they see in their environment. Employees are encouraged to point it out to other workers if their personal protective gear is incomplete, and to warn others of hazards they may not see or hear, such as broken equipment or close proximity of moving machinery, like forklifts.  If they see a potential hazard, painters know to notify foremen, but they are also encouraged to take ownership and do something about it themselves to fix it so that other workers are safe. All of these efforts can be nominated for recognition by Vulcan Painters' Safety Council. 
Vulcan Painters Safety Council meets monthly to bring employee concerns to management and suggest fixes for issues.  The employee-members also review each safety nomination and recommend the ones they approve for recognition. The safety council and rewards program is set up so that painters get a reward for making sure someone else is safe. The rewards includes special hardhat stickers that designate the individual is a safe worker, and a nomination also means the individual is entered into a monthly cash prize drawing.
 "People come to work knowing that safety is important and the system we have set up rewards them for taking care of each other," says Singerhouse.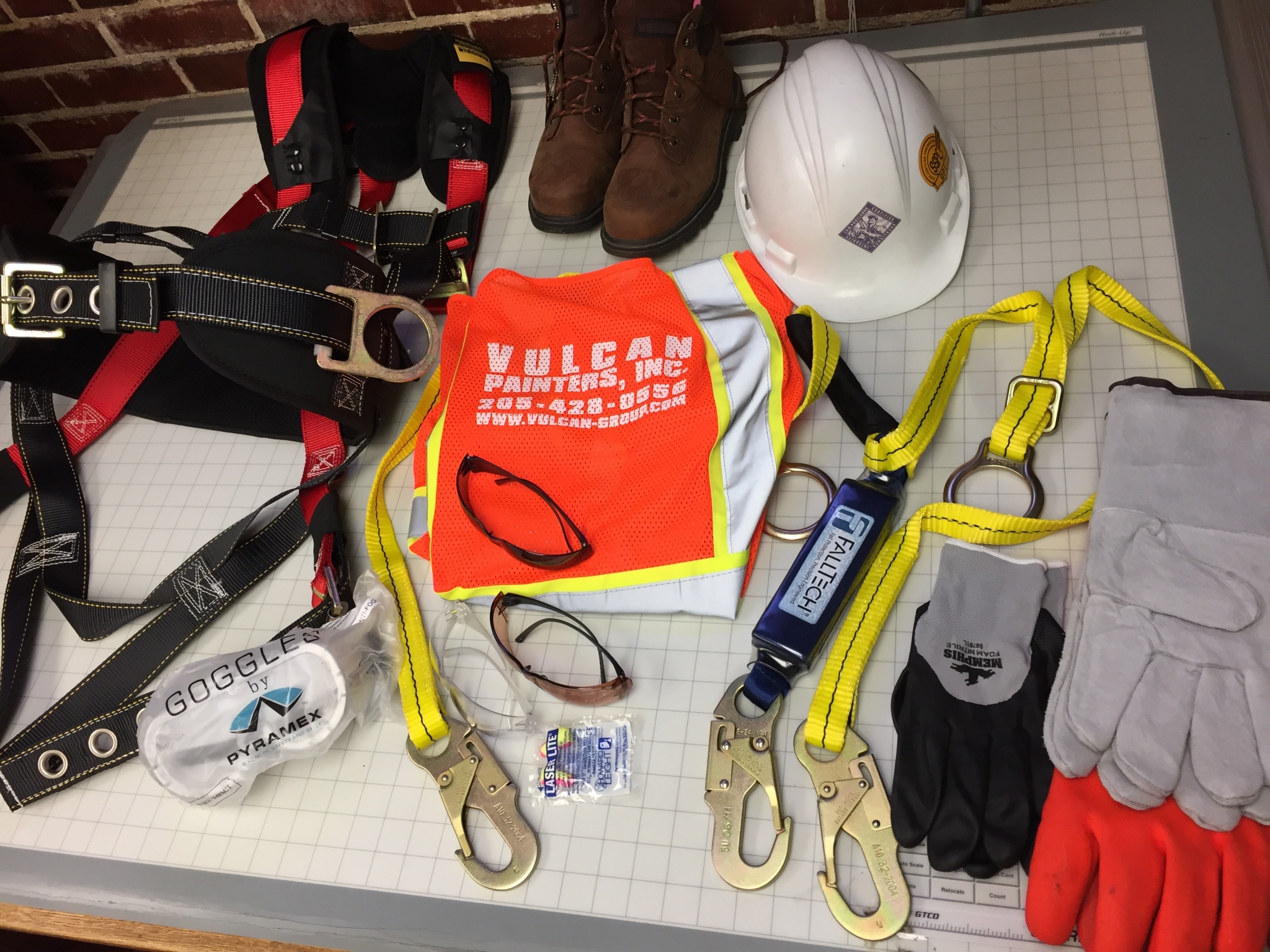 Painters make sure other workers' personal protective equipment is complete