The seeds of Vulcan Painters go back three generations, to the formation of a family owned painting company in 1938. In 1952, D. Avery Boyd and his brother, Martin Boyd founded Vulcan Painters. Two other Boyd brothers, William and Leslie, were also part of the business, located on Birmingham's Southside. Later, Vulcan moved to the historic Woodward Iron Company site where the company is today. The current site includes multiple buildings, rail siding and storage areas that became necessary as the business grew.
And it grew quickly. Vulcan Painters did continuous industrial painting projects for Marshall Space Flight Center and Redstone Arsenal in Huntsville, AL, for nearly two decades, while other customers included the Alabama State Docks, the Governor's Mansion, John Hand Building, Daniel Building, Temple Beth-El, St. Francis Xavier Church, Cathedral Church of the Advent, and the iconic statue of Vulcan.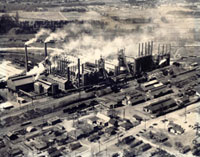 Founded with the aim of using the most advanced technology and products to serve the needs of customers, success and expansion led to the founding of Vulcan Pipe & Steel Coatings in 1983 to provide specialized services to the pipe industry. Meanwhile Vulcan Painters continued to serve its local clients: Legion Field, Compass Bank  (now BBVA Compass), the Kirklin Clinic at The University of Alabama-Birmingham, Mercedes-Benz, Honda, Southern Company and Alabama Power.  Other clients' projects include paper mills, sewer and waste water treatment facilities, chemical plants, university buildings, hotels and concrete floors in both industrial and commercial settings.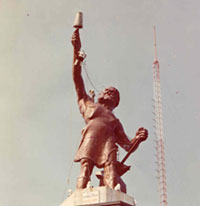 Today, innovation in the coatings industry means the use of robotics, closed containment systems, sponge blast and media recovery systems. We continue to scan the horizon for the best of new technology that can serve our customers. Recognizing the need for quality control, and serving customers using just-in-time production, Vulcan became ISO certified in the summer of 2000, and currently is registered to the ISO 9001:2015 standard.